Holbrook Easter Fly-in 2023
With the exception of 2020, which was cancelled due to the Coronavirus, Holbrook Ultralight Club has staged this popular Fly-in annually since 2006. Initially held on the first weekend of November, it is now held on the Easter holiday weekend and the Holbrook Easter Fly-in continues with the tradition of hospitality and friendliness.

We welcome recreational and sport pilots and their aircraft from all over Australia.
2023 Fly-in details
When: Saturday 8th and Sunday 9th April 2023.
Where: Holbrook Airfield YHBK S35.41.0 E147.19.0
What's on:
Refreshments will be available on arrival and throughout both days, commencing at about 9am on Saturday and continuing until 3pm on Sunday. Lunch will also be available on both Saturday and Sunday.
The Saturday afternoon Forums will again be a feature of the 2023 Fly-in. This year's forums will be:

RA-Aus Members Forum - the RA-Aus team will deliver a members forum which will update attendees about the latest information from RA-Aus HQ and answer any and all your questions and take on board any suggestions and feedback.

OzRunways Tutorial – the OzRunways team will demonstrate some of the core features of the OzRunways EFB plus run participants through brand-new ones with plenty of time to answer all your questions.
Alternatively, Saturday afternoon will be a great opportunity to catch up with fellow aviators and talk all things flying.
A licensed bar will be in operation from 5pm on Saturday.
The Fly-in Dinner "amongst the aircraft" will be served in the Club hangar on Saturday evening commencing with pre-dinner drinks at 6pm followed by dinner and a topical after dinner speaker.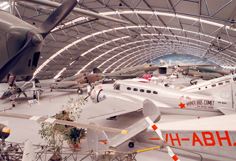 This year's after dinner speaker will be Tony Drage, who will be to talk about his father, Joe Drage's, career in collecting, restoring and flying historic aircraft both in Wodonga and Wangaratta.
In the early 1970's Joe, an avid aviation enthusiast, had accumulated a collection of 21 rare aircraft. This included several planes that were the only ones of their kind remaining in the world.
Joe went on to establish his own his own historical aircraft museum at Wodonga and in 1984 opened Drage Airworld in Wangaratta. Joe had a real passion for vintage and historic aircraft and I'm sure you will find Tony's talk both informative and entertaining.
The popular HULC barbeque breakfast will also be available on both Saturday and Sunday mornings from 7am until 9am. The Saturday morning breakfast will cater for visitors arriving on Friday or very early on Saturday.
Trial instructional flights (TIFs) and BFRs will be available over the course of the weekend.
Trophies: the popular Fly-in trophies will be awarded at the Saturday night dinner again this year. The categories will be:
- Best RA-Aus Registered Aircraft Award;
- People's Choice Award;
- Longest Distance Award (the longest distance travelled by an aircraft to attend the Fly-in)
Flying in to Holbrook:
Pilots flying to YHBK Holbrook are requested to use the main runways only (ie 04/22 and 14/34). The grass adjacent to these runways is currently unservicable.
Pilots flying into YHBK Holbrook should also be aware of the extent and proximity of Albury Controlled Airspace (CTA). For further information refer to the Canberra/Albury Visual Terminal Chart (VTC). Albury CTA is active at all times when the Albury Control Tower is operational, typically seven days per week. For further information refer to the current ERSA. Also note that Albury Control Tower's operational hours may alter at short notice.
Aircraft parking:
Ample aircraft parking will be available, most with tiedown facilities. There is also a limited amount of hangarage if required. There is also the provision for those pilots who would prefer to trailer their ultralight aircraft to Holbrook and assemble it on arrival.
Holbrook Airfield
WAC Code:
3456, 3457
YHBK
S35.41.0 E147.19.0
Elevation:
875' AMSL
Runway 04/22:
930 metres
Runway 14/34:
700 metres
CTAF:
126.7
AVFAX:
3049
AFOR Code:
22
Pilots are requested to keep an extra lookout for other aircraft in the vicinity of the airfield as some ultralight aircraft may not be fitted with radio communication.
Additional information regarding Holbrook airfield and the surrounding area can be found on the Holbrook Airfield page.
Accommodation
Underwing camping will be available throughout the weekend and a bus will be available to ferry those who prefer caravan, holiday cabin or motel accommodation in Holbrook (4km). Advance bookings are recommended for all but the underwing camping and the following is a list of accommodation in Holbrook.
Hotels
| | | |
| --- | --- | --- |
| Riverina Hotel | 131 Albury Street Holbrook | (02) 6036 2523 |
Motels
| | | |
| --- | --- | --- |
| Byer Fountain Motel | 164 Albury Street Holbrook | (02) 6036 2077 |
| Jolly Swagman Motor Inn | 46 Albury Street Holbrook | (02) 6036 3944 |
| Skye Motel | 142 Albury Street Holbrook | (02) 6036 2333 |
| Town Centre Motor Inn | 86 Albury Street Holbrook | (02) 6036 3095 |
Cabins and caravan sites
| | | |
| --- | --- | --- |
| Holbrook Motor Village | Bardwell Street Holbrook | (02) 6036 3100 |
Supporters
Holbrook Ultralight Club appreciates and acknowledges the support of the following organisation:
- Recreational Aviation Australia (RA-Aus)
- OzRunways